Reading
Instead of writing down what I read, I just keep track of what I own. Here's the csv file. Most recently, I've read Ruth Ozeki's A Tale for the Time Being, Ned Beauman's Glow, Magda Szabo's The Door, and Michelle Young-Stone's Above Us Only Sky.
---
Riding
From Sept. 11 to Nov. 20, 1999, I rode my bicycle from Columbia, SC, to San Diego, CA. Photos from the trip are here. Trip miscellany:
Distance traveled: about 3,800 miles
Favorite state: Kentucky
Any crashes? one, in Tennessee
Toughest day: a windy one through Tallgrass Prairie National Preserve in Kansas
Wildlife run-ins: raccoons stole my food during the night in Pawhuska, OK
Food staples: Pop-Tarts and peanut butter sandwiches
Longest day: 111 miles
Highest elevation: just shy of 10,000 feet in New Mexico
Unpleasant surprise that I should have been prepared for: going from an elevation of 163 feet to 4,226 feet in one day, the day prior to finishing in San Diego
---
Computers
I've tried to shrink the amount of computer equipment that I own and use as much as possible. At one point, I simply gave away a laptop, a Chromebook, and four desktop computers because they were devouring my time. The current roster, in its entirety, is:
MacBook Air 11" (early 2015, 256 GB SSD, 8 GB RAM)
iPhone SE (64 GB)
iPad Mini (1st generation)
iPod Nano (7th generation)
Ubuntu 14.04 virtual machine run by DigitalOcean
Airport Extreme
Airport Express x 2
Air Enabler
2 Western Digital external hard drives
---
Music (listening)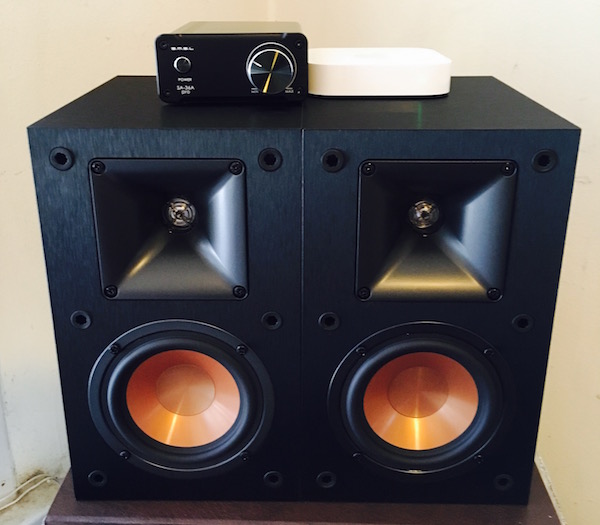 Like Jimmie Dimmick (Quentin Tarantino) in Pulp Fiction who, since he goes to the trouble of brewing coffee, wants it to be tasty, I want my audio equipment to make the music sound good.
Headphones
For over-ear headphones, I use Sony MDR-V6s and Sony MDR-7506s, each of which cost less than $100. I don't see myself ever using anything else.
For in-ear headphones, I like Apple EarPods (with Earhoox). I've come to really like the EarPods — having owned two pair of Sennheiser earbuds — because they don't jam into the ears and have no microphonic noise.
Stereo
I live in a second-floor apartment in an old, poorly-insulated house, so a big, loud stereo is out of the question. I recently purchased and returned a pair of Klipsch R-14M Reference speakers, an SMSL Audio SA-36A 20-watt digital amp (pictured), and a Logitech Bluetooth Audio Adapter.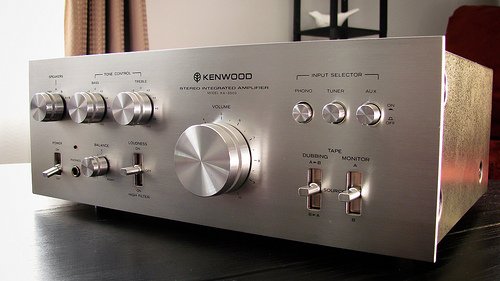 Previous to that I had a Kenwood KA-3500 Integrated Amplifier from 1977 (pictured) and Boston Accoustics HD7 speakers circa 1992 that I refoamed, but I gave them to Goodwill. The old electrical wiring in my apartment resulted in a very small popping noise in my speakers when my refrigerator stopped running. I tried to eliminate the problem by switching outlets and with two different power conditioners — a Furman and a Panamax — but nothing worked.
Additionally, I tried out a Bowers and Wilkins T7 and a Z2, but I didn't like either.
So what I've settled on is one Bose SoundTouch 20 (in the living room) and two Bose SoundTouch 10s (one in the kitchen and one in the bedroom). The speakers walk right up to the line of being boomy — the curse of small drivers trying to be big — but they actually sound quite good; they are nice and bright, and not muddy at all.
I stream music to the speakers via AirPlay because the Bose SoundTouch software doesn't work very well, e.g., while streaming different music to each speaker is straightforward, I have been utterly unable to stream the same music to all three speakers simultaneously via the "speaker grouping" feature. And the Bose software requires an internet connection to set up the speakers, which is inconvenient and unnecessary, especially since the only way to lower the bass setting on the speakers — which is maxed out by default — is via the Bose software.
But once the speakers are configured and connected to the home LAN, they work nicely, and being able to walk from room to room having the music following you is a great joy. I also like that the Bose speakers support bluetooth, unlike Sonos and unlike most B&W speakers.
Tunes
I buy my music from murfie.com or directly from artists' websites, e.g., the Disco Biscuits.
---
Literary Journal List
This list of literary journals comes mostly from The Review Review, which is a very useful site that I find a little difficult to navigate. I maintain this list mostly to make it easier for me to submit my work places.
b
|
c
|
d
|
e
|
f
|
g
|
h
|
i
|
j
|
k
|
l
|
m
|
n
|
o
|
p
|
q
|
r
|
s
|
t
|
u
|
v
|
w
|
x
|
y
|
z
a
---
b
---
c
---
d
---
e
---
f
---
g
---
h
---
i
---
j
---
k
---
l
---
m
---
n
---
o
---
p
---
q
---
r
---
s
---
t
---
u
---
v
---
w
---
x
---
y
---
z